The eternity ring
Our latest feature explores the Eternity Ring, stalwart of jewellery collections everywhere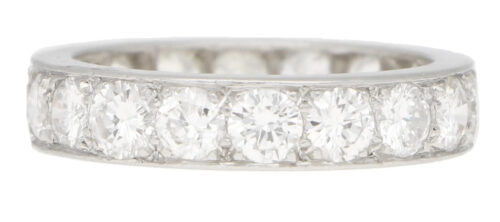 An eternity ring can often feel like the final piece of the puzzle, documenting a love story from engagement, to wedding to happy ever after. Arguably, an eternity ring is the most important jewellery purchase, as it is a powerful commitment to love that lasts an eternity. Traditionally, an eternity ring was bought to commemorate a significant milestone, but when is the right time to buy an eternity ring for your loved one?
The History Of Eternity Rings
Incredibly, eternity rings stretch back to over 4000 years ago. In fact, we have the Ancient Egyptians to thank for the symbolism. Back then, the rings symbolised eternal life and love. However, designs then were often far more graphic. Some ancient eternity ring designs feature snakes eating their own tail to create a circle of life.
Despite ancient traditions, eternity rings really grew in popularity from the 1960s. Designers were looking for ways to incorporate smaller diamonds into the designs. Typically, eternity bands are bands made of platinum or gold and studded with diamonds across the brand to form a circle of diamonds.
Now, there are many different types of eternity rings, and any band can be gifted with the sentiment of everlasting love.
How To Wear An Eternity Ring
An eternity ring is often worn together with an engagement ring and a wedding ring on the same finger. This is usually the ring finger, the fourth finger on the left hand. However, it is also common to wear the eternity ring separately on the right hand. There are no steadfast rules on the matter, and eternity rings can be worn wherever the wearer desires.
When Should You Gift An Eternity Ring?
There are several traditions for when to gift an eternity ring, depending on when is the right time for you:
First Wedding Anniversary
While traditionally, the gift for a first anniversary is paper, a fantastic way to celebrate a year of marriage is with an eternity ring, celebrating one anniversary and many more to come.
Birth Of A First Child
Another symbolic time to gift an eternity ring is after the birth of your first child together. With this, the eternity ring may also be known as a push-present. It provides a memorable occasion that will be thought of whenever the wearer glances at their ring.
Tenth Anniversary
Another great time to gift an eternity ring is after ten years of marriage. A traditional anniversary gift for a decade of marriage was tin or aluminium. However, according to the modern list, gemstones are in order to celebrate durability, strength and resilience in the marriage.
25th Wedding Anniversary
While silver is traditionally the gift for spending a quarter of a century together, platinum jewellery is often seen as more durable and long-lasting than silver. A platinum eternity band could be a fantastic way to celebrate such a marvellous achievement together.
A Pivotal Moment As A Couple
Each couple will have their own defining moments. Perhaps it's a time when you've chosen not to marry but commit to spending the rest of your lives together. It could be that you've bought a house together and want to mark the occasion. Perhaps there was a moment which cemented your everlasting love, such as overcoming a challenge or adversity.
Each couple will have those key moments in their love story; one of those could be symbolised forever through an eternity ring.
40th Wedding Anniversary
In traditional anniversary gifts, 40 years of marriage is the first time when gemstones are gifted. Forty years of marriage is also known as a ruby wedding anniversary and is the ideal time to gift a ruby eternity ring. While tradition may state this is the first year for gemstones, we believe the gemstones can be gifted without time restrictions.
60th Wedding Anniversary
A 60th wedding anniversary is also known as the diamond wedding anniversary. This time together shows that love has truly undeniable strength, much like a diamond. A diamond eternity ring seems only fitting for such an impressive milestone in a relationship.
Choosing An Eternity Ring
From an interlinking trinity ring symbolising an unbreakable bond to a Cartier Love Ring or perhaps a gemstone eternity ring, there are many options to choose from. At Susannah Lovis, our jewellery experts are here to help you find the perfect eternity ring that expresses your unique love, and best symbolises your relationship together.
If you'd like help finding the ideal eternity ring to gift, visit us in the Burlington Arcade, or contact our team today.