Jewellery Repair in London
At Susannah Lovis in London's Burlington Arcade we offer a jewellery repair service to our customers. We can carry out a range of jewellery repair work, depending on your repair service needs. The repair works are carried out at our in-house central London workshop and include simple works such as a ring resizing, to more complicated repair work such as resetting or remodelling jewellery. Any repair work carried out on your jewellery at our central London workshop is fully guaranteed and carried out by our expert technicians.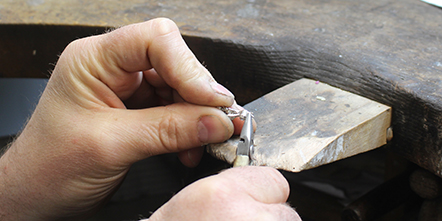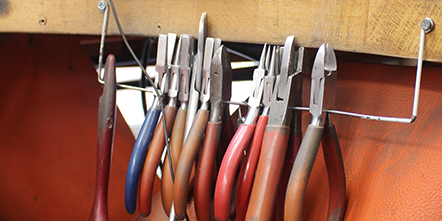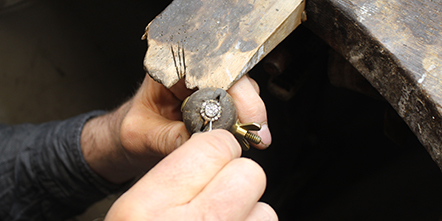 Restoration of antique jewellery
Jewellery is subject to wear and tear over the years, and small dents and scratches are common on well-worn items. The majority of jewellery that customers bring in to our shop is often more than 100 years old, and in such cases there is usually a fair amount of wear and tear on these items due to their age. This can range from missing stones, broken claws or clasps and other everyday damage. Our central London team of jewellery specialists are able to restore jewellery in our workshop and return worn items to a like new condition.
Ring resizing
Ring resizing is a relatively easy process and a resizing can be completed in as little as a few days in our workshop. The time to complete the resizing depends on the increase or decrease in size required. For small adjustments this is a relatively simple process that can be done without adding any additional material to the ring. For larger sizes and ring enlargements this can mean adding material, whether this be gold or platinum depending on the ring make and style. Material can be added to any ring to the band to increase the size to fit.
Remounting
If your ring or necklace has a missing stone that has been lost or damaged, we can either remount your existing stone if you still have it, or add a replacement stone to the piece.
In the case of a new stone being required we are able to source stones in many different cuts. We can work with, for example, old cuts, round brilliant cuts and princess cuts among others. A selection of stones from our sources can be viewed by the customer prior to being remounted. These can be matched with the remaining stones in the case of a two or three stone ring.
Remodelling
We have found that a number of our clients have old antique or vintage jewellery which has a sentimental value, perhaps as a family heirloom for example, but is not in a style that they themselves would wear. In these cases we are able to remodel jewellery to our clients' bespoke specifications in our central London workshop. If you would like more information about our jewellery remodelling service in London, please see our jewellery design page for more information.
In addition to the above we are also able to offer:
Pearl re-stringing
We are also able to offer a pearl re-stringing service. Our experts recommend re-stringing an item of pearl jewellery as soon as the thread begins to discolour, stretch, or fray, all of which are common as part of general wear and tear. The point of most stress in a pearl necklace is where the gimp is situated, between the clasp and the first pearl on the string. It is advisable to check this area for any signs of discoloration over time, as this is a clear indicator that the pearl necklace will need re-stringing soon.
Jewellery polishing
In our workshop in we also offer a gold jewellery polishing service for rings, pendants, necklaces and other items. We advise customers to get their jewellery polished and cleaned regularly to avoid regular wear and tear, and to stop any further damage to an item developing. Our team in central London can make your jewellery shine once more with our professional jewellery polishing service.
Earring conversions
Often customers come to us looking for earring conversions. Our team of professionals are able to repair any broken earring clasps as well as convert items from pierced items to clip on as well as converting to a pendant.
Bespoke items
The team at Susannah Lovis are able to make bespoke jewellery items, for example making bespoke items to match a piece of existing jewellery. Our experts in our London workshop can do this by duplicating the look and design of a pair of earrings to create a matching ring for example.
Our jewellery workshop
We have been in business for over 20 years as has our workshop in central London. With huge experience in all areas of repair we are able to offer advice on almost all jewellery repair work needed to our customers. We are also able to fully guarantee all work undertaken by our workshop. Depending on availability we are able to complete some repairs on the same day
We are able to post repairs back to clients based in the UK but outside London so that you do not need to take two trips to drop off and collect your item.
To find out more please call us on 020 7493 2008 or contact us.