Engraving in London
The majority of the items from our jewellery shop can be engraved upon purchase. However, this does depend on the item and we will be able to better advise you in-store once you have chosen the jewellery you would like to purchase. Please note that we are unable to engrave items that have not been purchased through us.
Hand engraving is an art form. All of our engraving work is completed by hand. Jewellery engravers must complete thorough training programmes and be 'apprenticed', which gives the engraver a qualification to demonstrate their knowledge of the craft.
All our engravers have decades of experience engraving a vast array of jewellery items that you may wish to have engraved or personalised. Or experienced engravers are able to produce engraving work to one of the highest standards.
Our engravers follow the NAJ/NAG style card, which displays a number of fonts, typefaces and engraving styles and texts to choose from. A copy of the NAJ/NAG style card can be downloaded here, or come in to the shop and one of our team will be able to talk you through the different style options available depending on the piece you wish to have engraved. Should you wish to provide your own font or style, for example your own handwriting then please bring a copy of this with you.
Family crest and signet ring engravers
Whether you are looking for a signet ring for a birthday present or something for yourself that you wish to personalise, we can help with our wide knowledge of engraving styles and methods. We are able to engrave almost anything for you, provided that it has a flat enough surface for our engravers to work with. Some of the most popular forms of engraving include:
Traditional signet rings
A traditional gold signet ring uses the crest of a family coat of arms, which is usually found at the top of the shield. This is then hand engraved in our workshop to allow the highest quality of signet ring engraving. As a family run business, we understand the importance of the heritage of a signet ring and will be able to work with you to create a unique piece to be enjoyed by your family and generations to follow. Engraved signet rings make excellent presents and many of our customers buy them as 18th birthday presents for family members as a popular choice of hand engraving.
Modern signet rings
If you are looking for something different or a more individual and unique style then we are also able to engrave modern signet rings. Rather than using the more traditional family crest, modern signet rings can include almost any design or lettering requested. Popular choices include initials, logos, and symbols. Many of our clients request modern signet ring engraving to be able to combine a mixture of initials as well as symbols, giving a highly personalised ring for the wearer or wearers. If you do not know what you would like to have engraved, one of our central London engravers and the team will be able to assist you throughout the engraving purchase and help you choose the perfect engraving design for your modern signet ring.
The engravers card
All traditionally trained hand engravers have a knowledge of the most frequently used styles which is generally referred to as the 'Engravers Card' and produced by the National Association of Jewellers. Which is reproduced below, this can also be downloaded in PDF format. Engravers Style Card.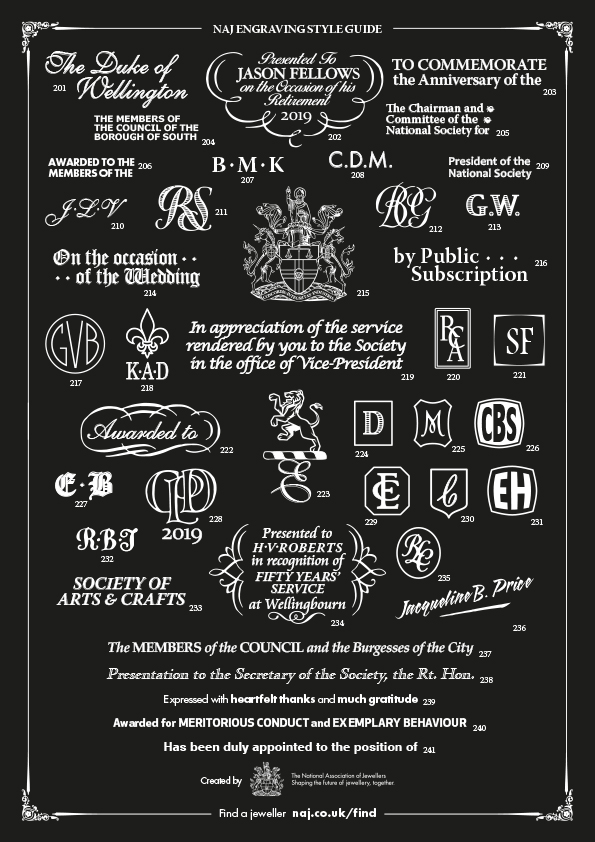 Other Engraving types
Dates and names on the inside band of rings
Having dates or names engraved inside the band of a ring is a very popular choice for our clients. A personally engraved ring can work perfectly as a wedding ring, an anniversary present, or a personal token as a gift.
Engraved cufflinks
We can engrave initials and crests onto cufflinks and these can be ordered online. This choice is very popular for christening presents as well as gifts for a loved one. Please see our Personalised cufflinks page to order.
Please note that we can only engrave items purchased from Susannah Lovis Jewellers