Should You Choose A Vintage Engagement Ring?
As the famous wedding saying goes, 'something old, something new, something borrowed, something blue'. But when it comes to something old or something new, which is the right way to go for the engagement ring?
An engagement ring is perhaps the most important piece of jewellery to buy, and getting it right is essential. It is a ring that hopes to be treasured for many years to come and symbolises the unique bond between you and your partner.
So, do you choose a brand new ring, fresh from the jeweller, or does a vintage engagement ring with a story best suit your relationship?
Key Elements To Consider When Choosing An Engagement Ring
Whether you go for a vintage engagement ring, a trendsetting piece by an up-and-coming designer or a true classic from a big name jeweller, there are a few considerations to keep in mind.
The first consideration is longevity. While elaborate and dainty rings serve a beautiful purpose as occasionwear, an engagement ring is likely to be worn all day, every day. It should be able to handle the knocks and scrapes of daily life.
As a result, it is wise to go for a strong, durable metal for the ring band. Most jewellery experts will recommend either platinum or gold for a band designed to be worn frequently.
Another consideration is the gemstones. Tradition may state that a solitaire diamond is essential for an engagement ring, but you don't have to follow tradition. The first diamond engagement ring was commissioned in 1477 by Archduke Maximillian of Austria. However, diamond engagement rings only grew in popularity from 1947 when De Beers launched their "diamonds are forever" campaign.
Diamonds make an excellent stone for engagement rings as they are hard stones, which means they are less likely to suffer damage when worn regularly. However, other gemstones that have a good level of hardiness include ruby, sapphire and emerald. Stones that may suffer from chips or scratches are softer stones such as opal and pearl.
The final consideration is that there are no rules when it comes to choosing an engagement ring. Whatever feels right for your partner and your relationship will be the perfect engagement ring.
Choosing A Vintage Engagement Ring
There is no right or wrong when it comes to deciding to go for a new piece of jewellery or opting for a vintage piece. However, we know choosing pre-loved or vintage jewellery pieces can be daunting. It can have a reputation for appearing cheap or second hand, but actually, vintage engagement rings can be a fantastic investment piece while also giving you more quality for your money.
It's not just the economic aspects that are worth considering when deciding whether to go for new or vintage engagement rings.
Increase your options
As with all jewellery, new designs will follow trends that can actually limit your choice when searching for the perfect ring. Unless there is a specific style you and your partner have in mind, looking for a vintage engagement ring can actually open up your options, helping you to find the right piece. If you're looking for a one-off design or an unusual ring style, then vintage rings can make it easier to find The One.
Perhaps your loved one has a passion for Edwardian or Victorian pieces – it may be far easier to source a genuine antique ring than to find a modern replica. What's more, that antique piece will have a history and its own story, giving it a really special meaning.
A Love Story Chapter
What story do you want your engagement ring to tell? For some people, a brand-new engagement ring is the start of a new love story. It's perhaps the only story you want your ring to tell.
On the other hand, a vintage engagement ring is a chance to write a new chapter in the love story of the ring. The hallmarks and signatures on the ring will indicate its provenance, while its style may indicate the period it belonged to. When you own a vintage ring, you not only start a new chapter in its story, but you walk around with a whole host of stories and experiences that the ring has seen, all locked into the band.
The quality of vintage engagement rings also means they can make fantastic heirloom pieces, a ring that you can treasure for a lifetime and pass on to younger generations so they can create their own chapters.
Sustainability
Ethics and sustainability are key values for many people, and a vintage engagement ring can offer a more sustainable choice. This is done by reducing the demand for new materials and the potentially dangerous mining processes that can take place.
The other option for new rings is to opt for lab-grown gemstones; however, natural gemstones are usually preferred as they tend to be hardier than lab-grown pieces, which can be brittle.
In a vintage engagement ring, you are likely to find natural gemstones, often with greater clarity and size than newer alternatives. In terms of value, newer rings have to consider the sourcing of new stones and the design and creation of the ring. With a vintage ring, you are likely to find a larger carat or purity for a lower investment.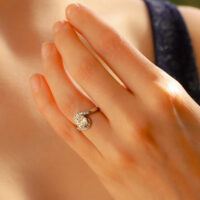 Which Is Right For You?
Whether you're choosing a ring as a surprise or your partner has a very clear idea of their ideal engagement ring, there are so many options to consider. With the benefits that antique pieces can bring, we recommend looking at vintage engagement rings to broaden your choice and enable you to find the perfect ring that will last a lifetime and be the symbol of your own love story.