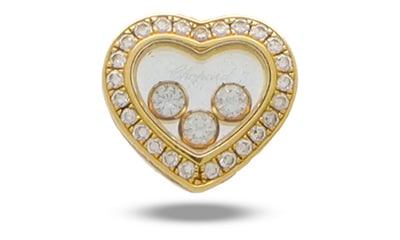 A Guide To Buying Jewellery For Valentine's Day
With Valentine's Day around the corner, it's time to get prepared, so that gift shopping isn't a last-minute panic. When it comes to Valentine's Day, there are some mainstay gifts. The most popular gift is a box of chocolates, while flowers and other edible sweet treats come a close second. 18% of loved-up romantics opt for jewellery for Valentine's Day, but jewellery can be a tricky gift for Valentine's Day – here's how to get it right.
Is jewellery the right gift for Valentine's Day?
For Valentine's Day, it is important to ensure it gives the right message to your significant other. For example, if you're not married, a ring as a gift for your loved one may look like an engagement proposal. Similarly, costume jewellery may be underwhelming to a partner looking for a meaningful gift that symbolises your relationship.
That said, choosing the right piece of jewellery can be a Valentine's Day gift to remember.
Choose something that matches how you feel
For Valentine's Day, it's important to choose jewellery that matches your relationship level and the intention for the relationship. A special Valentine's Day gift can really help to demonstrate your affection to your significant other and, if you want, can help you to set a statement about moving your relationship to the next level.
Similarly, if you have been with your partner for a long time, you may dismiss Valentine's Day, but a beautiful gift can help to reaffirm your love and give your partner an incredible romantic surprise.
While the length of time doesn't equate to the type of jewellery you should buy for a partner, it is important to match the relationship level. For example, a significant piece such as a watch may not be the appropriate gift for someone you are dating casually, but a watch can be the ideal Valentine's Day gift for a long-term partner or spouse.
Find something that's made to be worn
Another big factor in choosing the perfect Valentine's Day gift for a loved one is selecting something that you'll know they'll want to wear. This doesn't mean that the piece has to be small and subtle, but it does have to suit their personal style and be something that matches what they regularly wear. So, what do they enjoy wearing, and can you find something that you know they'll fall in love with when they open it on Valentine's Day?
Why vintage jewellery is a winner on Valentine's Day
With romance in the air, vintage jewellery is a meaningful way to continue a love story. Antique and vintage jewellery has stood the test of time and goes on to add write the next chapter of its love story.
Furthermore, if you consider pieces such as Victorian jewellery or Edwardian jewellery that are full of romantic symbolism, opting for vintage pieces becomes more meaningful and more sentimental, too, ideal for expressing love on Valentine's Day.
Top jewellery picks for Valentine's Day
Cartier Love Bracelet
The Cartier Love bangle is a true symbol of being locked into love. It is a true icon in the jewellery world, with many famous faces adorning this classic style statement. So for a special Valentine's Day, a vintage Love bangle can be the perfect gift for a style-savvy loved one.
If a bangle isn't the right style for your loved one, a Cartier Love Ring offers the same style but on a smaller scale. In addition, Cartier Love Rings don't have to be but can be used as wedding bands and eternity rings; with this in mind, a Cartier Love Ring can be an excellent gift for a long-term partner as a sign of your commitment to them. It will undoubtedly be a Valentine's Day they'll remember.
Diamond earrings
Classic, versatile and a perfect gift for almost every taste and style, a classic pair of diamond earrings is ideal for Valentine's Day. Vintage diamond earrings come in a range of sizes, which means it is easy to find something that will suit your loved one and also perhaps offer a range of budget options too. This can be an ideal Valentine's Day gift for most relationship levels.
From classic stud diamond earrings to Valentine's Day-approved heart-shaped options or designer Elsa Peretti designs, there are lots of choices that all make for fail-safe Valentine's Day options that offer wearability and can help to create a daily reminder of your love.
Bring them flowers
A bouquet of roses or a bunch of flowers is synonymous with Valentine's Day. However, you can opt for something more long-lasting this Valentine's Day by opting for floral jewellery such as rose stud earrings, floral spray jewellery designs or a flower brooch.
There are lots of beautiful floral designs in jewellery which can be a fantastic way to maintain the Valentine's Day tradition of buying flowers for your romantic partner but offer lifelong flowers.
Find the perfect vintage jewellery for Valentine's Day
If you need help finding the right gift for your valentine, Susannah Lovis are here to help. From advising on watches to jewellery gifts and helping with sizing to style, our team can help you find the perfect Valentine's Day gift to make this Valentine's Day one to remember for your loved one.
Browse our collections online today or pop in store to see us at the Burlington Arcade.