Tennis Bracelets: Best Ways To Wear Them
A true staple in a jewellery box, the tennis bracelet is a versatile and classic piece of jewellery that is not just for tennis players. The bracelet is slender and flexible, studded with continuous pavé diamonds or crystals, so they shine and shimmer with movement.
A tennis bracelet is widely known thanks to its wearability. However, if you're yet to invest in a tennis bracelet, you may be wondering if it'll become a go-to piece for you. Here we're sharing some of the best ways to style your tennis bracelet and ensure that you'll wonder how you ever lived without it.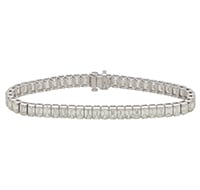 What is a tennis bracelet?
A tennis bracelet describes a bracelet made up of a thin ribbon of diamonds. While the whole bracelet is paved with diamonds all the way around, the bracelet itself is slender and discreet, making it very wearable and versatile.
Traditionally a tennis bracelet is studded with diamonds; however, it can be made with any stone to form a continuous string of sparkles. Crystals and precious gemstones can be used, but a classic tennis bracelet will be with clear white diamonds.
The diamonds will usually be set on a bracelet of white gold, platinum or silver.
Why is it called a tennis bracelet?
The name actually comes from legendary tennis player Chris Evert. She was one of the first tennis players to wear jewellery when playing professionally. The tennis bracelet gained its name as, during a particularly heated match in the US Open of 1987, the former World No 1 tennis player stopped the match as her diamond bracelet had fallen off in the middle of a game.
Since this incident, the name tennis bracelet has been synonymous with this gorgeous diamond bracelet style. However, the bracelet style was already popular throughout the 1970s.
While it's not just for sports players, a tennis bracelet is ideal for active people. This is because the bracelet is very lightweight and flexible. It's always durable and subtle enough to be added as a little glimpse of sparkle when wearing active or casual clothing.
It is still a common piece of jewellery for tennis players for both its style and perhaps strategy. The sparkle of a tennis bracelet as it catches the light could be just enough to distract an opponent during a match.
How to style a tennis bracelet
Elevate casual or activewear
The subtlety of the tennis bracelet, thanks to its slender design, makes it a great choice to elevate a casual or athletic outfit. In addition, the wearability makes the tennis bracelet an ideal 'throw-on' bracelet. If you're looking to elevate a casual look, a tennis bracelet can work wonders and won't feel too bulky or extravagant with casual attire.
Dress up a day watch
If you regularly wear a watch, it may be difficult to wear bracelets as well. It can look uneven wearing a bracelet on one arm and a watch on the other. However, a bracelet and watch on the same arm can feel too much, too heavy, and too contrasting.
This is where a tennis bracelet works well. Its slender design can work well with a day watch and feels harmonious.
The great thing about a tennis bracelet is how the sparkle of the diamonds can complement the bezels of a day watch and further highlight and 'dress up' the watch.
Wedding day glamour
Sleek, elegant, and timeless, the tennis bracelet makes an essential piece of jewellery for wedding day glamour. Its harmonious and versatile style can suit a range of outfits. The simplicity of a tennis dress serves to complement bridal gowns by adding a little touch of sparkle.
Tennis bracelets are also the perfect gifts to members of the bridal party, such as bridesmaids or the mother of the bride. They work well with any outfit and can be a heartfelt and lifelong gift of thanks for supporting you on your special day.
If you're looking to gift a bride 'something old' as part of the wedding tradition, a vintage tennis bracelet can be the perfect gift that you can trust will complement her bridal look.
Layer it
Add texture and definition to your look by layering a classic tennis bracelet with other bracelets. For example, pairing a tennis bracelet with two or more chain bracelets can add movement to catch the eye. Alternatively, pairing the bracelet with a chunkier bracelet can create contrast. The neutral palette of a tennis bracelet also means it can work wonders with coloured gemstones too.
Find the perfect tennis bracelet for you
At Susannah Lovis, we stock a range of vintage diamond tennis bracelets in a variety of carats and cuts; browse our current range to find your piece or call our team, who will be happy to help find the perfect tennis bracelet for you.