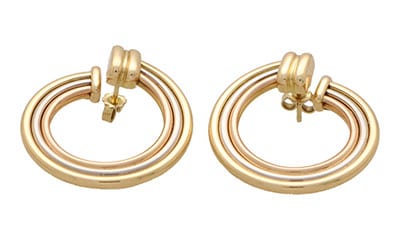 As the summer season approaches, it's time to update your jewellery collection with the latest trends that will make you shine under the sun. From vibrant colours to nature-inspired designs, the world of jewellery is abuzz with exciting possibilities. In this article, we'll explore the top jewellery trends for summer 2023 and highlight some stunning pieces available at Susannah Lovis that will keep you on-trend while adding a touch of elegance and sophistication to your summer looks.
Tropical Vibes: Embrace the tropical spirit of summer with jewellery featuring vibrant colours and nature-inspired motifs. Look for pieces adorned with exotic gemstones like turquoise, coral, and citrine. A statement cocktail ring with a bold tropical motif or a pair of colourful drop earrings can instantly elevate your summer outfits. At Susannah Lovis, discover our collection of vintage brooches featuring tropical flowers or animal designs that will add a touch of paradise to your ensemble.
Layered Necklaces: Layered necklaces continue to dominate the fashion scene in 2023. Create a stylish and bohemian look by mixing and matching necklaces of different lengths and styles. Consider combining delicate chains with pendant necklaces or layering choker necklaces with longer, dainty chains. At Susannah Lovis, explore our selection of vintage pendant necklaces and chains that can be effortlessly layered to achieve a chic and on-trend summer look.
Sea-inspired Jewellery: As summer is synonymous with the sea, embrace sea-inspired jewellery that captures the essence of the ocean. Look for pieces featuring seashells, starfish, or coral designs. Opt for delicate earrings adorned with pearl accents or a statement cuff bracelet with intricate shell motifs. Susannah Lovis offers a stunning range of vintage jewellery that celebrates the beauty of the sea, allowing you to channel a maritime vibe effortlessly.
Sunburst Motifs: Sunburst motifs are making a radiant comeback in 2023. Symbolizing vitality and energy, sunburst jewellery adds a touch of radiance to your summer outfits. Seek out vintage pieces with sunburst designs, such as pendants, earrings, or bracelets. A stunning vintage sunburst brooch can become the focal point of your summer dress or blazer, exuding a sense of glamour and sophistication.
Bold Hoop Earrings: Hoop earrings are a perennial favourite, but this summer, they're taking on a bolder and more dramatic twist. Oversized hoop earrings are making a statement, with intricate details, unique shapes, and embellishments. Look for hoop earrings with charms, gemstone accents, or textured designs. Susannah Lovis offers a variety of vintage hoop earrings that allow you to embrace this trend with a touch of timeless elegance.
Nature-inspired Motifs: Bring the beauty of nature to your jewellery collection with pieces inspired by flora and fauna. Look for intricate leaf-shaped earrings, floral brooches, or butterfly-inspired pendants. Susannah Lovis showcases a range of vintage jewellery that captures the essence of nature, allowing you to adorn yourself with enchanting designs that reflect the summer season's natural beauty.
Stackable Rings: Stackable rings are a fun and versatile trend that allows you to create a personalised and unique look. Mix and match different metal tones, gemstone colours, and band widths to achieve a fashionable stack. Experiment with vintage rings in various styles, such as dainty bands, statement cocktail rings, or delicate eternity bands. Susannah Lovis offers a wide selection of vintage rings that can be stacked to create a stunning and individualized summer look.
Summer 2023 brings a refreshing array of jewellery trends that celebrate the vibrancy of the season. From tropical motifs to nature-inspired designs, there is something for every jewellery lover. At Susannah Lovis, we curate a stunning collection of vintage jewellery, offering a wide range of pieces that reflect the latest trends while embodying timeless elegance. Browse our collections online or visit us in-store to discover the perfect summer jewellery pieces that will elevate your style and capture the essence of the season. Embrace the hottest trends and make a statement with your jewellery choices this summer.
At Susannah Lovis, we believe that embracing vintage jewellery is not only a fashion statement but also a sustainable choice that contributes to a more ethical and responsible fashion industry. Join us in celebrating the beauty of vintage jewellery and be a part of the movement towards a more sustainable and stylish future.