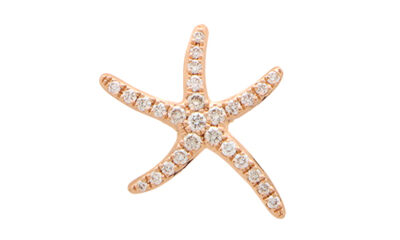 2023 Spring Jewellery Trends
Already we've had fashion brands completing their catwalks for spring/summer 2023, and from these, it is possible to see the likely trends of the year when it comes to fashion and jewellery.
In 2022, pearls were the jewellery piece of choice, with 'pearlcore' the term dubbed for this trend. From classic pearls as worn by the late Queen Elizabeth II and Duchess of Cambridge, we also saw a fresh take on pearl jewellery with the likes of Harry Styles and Jennifer Lopez making pearls a key feature in her wedding day style. So, will pearls remain dominant throughout 2023 or are there other trends set to sweep the fashion world?
Shells and seashore
Across catwalks, a common trend has been of seashells and seaside elements. Fashion designers and brands such as Ulla Johnson, ERL, Alexis Mabille, Temperly London and David Koma have all drawn on the seashell trend for their latest catwalk looks.
While some of these catwalk trends have full mermaid vibes, this trend can be as subtle or as bold as feels comfortable. We love the diamond starfish pendant, which is a modern and sophisticated way to adopt the seashore trend for 2023. At Susannah Lovis, we have collections featuring diamond starfish studs in rose gold, white gold and yellow gold, as well as different sizes of earrings to suit all styles.
Alternatively, Seaman Schepps is a beautiful example of bringing seaside elements into fashion. For example, the rosewood and gold earrings feature twisted yellow gold rope reminiscent of boating trips and seaside adventures.
Shoulder dusters and big drops
A trend that is set to be huge in 2023 is elaborate drop earrings. Shoulder dusters or shoulder-grazing earrings have dominated the catwalks for spring/summer 2023, with Louis Vuitton, Tom Ford and Proenza Schouler all showcasing huge drop earrings in their fashion shows.
Becoming the statement part of the outfit, drop earrings can have a huge impact and can be the focal point of an outfit, making it easy to dress up an outfit and make a statement. Of course, shoulder-grazing earrings may not feel comfortable for everyone or be practical. However, we can expect all drop earrings to be on trend in 2023.
At Susannah Lovis, we have drop earrings to suit every outfit, style and occasion. From subtle brick link drop earrings from the Cartier Lanieres collection to contemporary yellow gold ball drop earrings that offer movement and light reflection.
For more movement, Boucheron Dechainee diamond drop earrings catch the light with their pave diamonds but also add texture with the chain link drop elements. For more impact, Tiffany tassel chandelier drop earrings are ideal when paired with a black dress for a smart casual look.
Petal power
A surprising reappearance in 2023 catwalks is the large floral elements that have been seen by fashion houses such as Prada, Thom Browne, Carolina Herrera, Roberto Cavalli and Simone Rocha. Flower power has dominated the catwalks in many different ways, from huge floral brooches to subtle earrings or hair accessories. However, it's clear that flower jewellery adds texture, colour and a femininity to fashion in 2023.
Flower-themed jewellery can be easily incorporated into daily wear in 2023. From a delicate floral spray brooch for a touch of sparkle on a winter coat to elegant Tudor rose diamond studs or a stunning floral display with a Buccellati Primavera emerald necklace. Alternatively, a colourful floral cluster ring can be a fantastic way to adopt this 2023 trend while also ensuring it becomes a mainstay of your jewellery box for the future.
Contemporary pearls
As anticipated, pearls will continue to be a jewellery trend into 2023. However, we can expect a more contemporary take based on what we've seen from the catwalks. Junya Watanabe and Alaïa focused on layering pearl necklaces with other textures, while Christian Dior combined the choker trend with pearls for a nineties feel. Givenchy proved that there is no such thing as too many pearls by teaming together multiple pearl rings with a chunky pearl bracelet with an embellished pearl dress.
For a fresh take on wearing pearls, Tahitian baroque pearls offer a beautiful colour tone in shimmering greys. Alternatively, combine delicate pearls with chunkier strands, such as a three-strand necklace.
There are many ways pearls are incorporated into unusual jewellery designs, such as a striking Tsavorite garnet parrot necklace or an intricate salamander bracelet. However, it may be that your preferred style is to clash pearls, such as wearing a classic pair of pearl stud earrings with contemporary choker necklaces or chunky chains to create a modern look that is on trend for 2023.
Jewellery trends for 2023
Find your favourite jewellery for the 2023 season with Susannah Lovis; browse online to view our stunning vintage collections today,