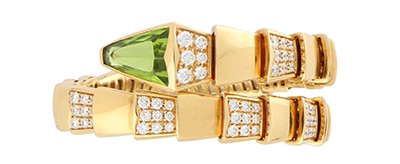 A Guide To Buying Vintage Bvlgari Jewellery
When it comes to luxury, the name Bvlgari has been synonymous with quality and distinction for more than a century. Bvlgari has a wealth of history and culture that informs even the latest designs.
From pre-war to the 1930s golden age and the brand's renaissance in the 1950s, the designs are deep-rooted in art and informed by a long and prestigious heritage. If you're looking for something special and truly unique, you should consider skipping the new collections in favour of buying vintage Bvlgari.
What makes vintage Bvlgari jewellery special?
Bvlgari jewellery is known for its elegance, sophistication and timeless beauty. The brand has forged a strong reputation since its inception in 1884 when Sotirio Bulgari opened his first store in Rome. Since then, Bvlgari has become a household name worldwide thanks to its dedication to excellence in design, craftsmanship and quality.
As well as being a luxury jeweller, Bvlgari is also famous for producing some of the most beautiful timepieces in the world. The luxury jeweller has won numerous awards for their timepieces, including at prestigious watch shows such as Baselworld or SIHH (Salon International de la Haute Horlogerie).
This legacy of excellence continues today with their jewellery collections that are still made using traditional methods of manufacturing established by Sotirio himself more than 100 years ago. Each piece is informed by the brand's heritage and prominent works of art, weaving layers of meaning and storytelling into each piece.
The different eras of Bvlgari
The Bvlgari brand was founded by Sotirio Bulgari in Rome, Italy, in 1884. The brand has gone through many eras of design and production over the years. Each phase of design features unique intricacies helping each style remain iconic, making them incredible investment pieces.
The first era started with founder Sotirio Bulgari and lasted until 1929. This period saw many pieces created by the jewellers Antonio Bulgari and Giovanni Auricchio, who worked closely with Raffaele Piccoli and Cesare Quartana.
Many pieces from this time period reflect traditional French styles, with elements of art deco being added later. Platinum and diamond became Bvlgari's most popular materials in this era.
The second era began in 1930 and continued until 1958. During this time period, you'll find pieces from several designers, including Attilio Terragni and Mario Gagliardi. This was the time that Bvlgari's unique style began to emerge. The popular Serpenti designs were released for the first time, and bright yellow gold and coloured stones replaced the silver tones of years gone by.
The third era started in 1959 and lasted until 1989. Dubbed the "Dolce Vita" era, Bvlgari became known for extravagant designs that exuded colour and dripped with precious gems. To many, the third era is the most iconic.
Which Bvlgari pieces to buy
Serpenti is a design with decades of heritage. It debuted during Bvlgari's iconic second era, and the design is still produced today. The Serpenti collection was inspired by the Bvlgari family crest and their coat of arms, which features two snakes curled around one another, symbolising eternity.
They most commonly feature 18k gold or platinum set with diamonds, as well as other precious stones like topaz or sapphires. You can buy them in a variety of sizes, from petite and delicate to bold statement jewellery.
Roman coins inspired the Moneta collection; each piece has been handcrafted from 18k white gold or platinum using ancient techniques that have been handed down through generations within the Bulgari family. This particular collection is known for its diamond-encrusted Greek key motifs that wrap around your wrist like chains.
The Parentesi collection is arguably one of the most iconic. Inspired by interlocking Roman roads, the collection features woven metal and is often more modular. It's the collection to turn to for a subtle piece that will pair with any outfit.
Buying vintage Bvlgari pieces
When buying vintage Bvlgari jewellery, there are only a few places to look if you want to be reassured of quality and authenticity.
Specialists in vintage jewellery are often the safest choice, such as Susannah Lovis. We all offer authentic pieces where quality is guaranteed. We have a strong reputation for integrity, as well as our experience with the market to decide what pieces to stock.
Select only pieces that spark joy for you. Most vintage Bvlgari pieces represent good investments, but it is usually best to choose pieces based on what you truly love and want to wear instead of what you think might appreciate in value.
Finally, know the history of the piece before you buy it. Understanding how each piece came to be and the intricacies of each design helps you to appreciate the craftsmanship and will help you fall in love with your newest vintage find even more.
Find your favourite Bvlgari pieces here or if you're looking for us to source something particular, speak to our team, who will be happy to help.