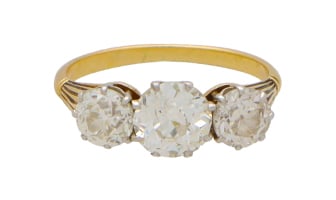 There is no doubt that a beautiful diamond ring can be the pièce de résistance of a jewellery collection. However, to take this must-have to the next level, antique diamond rings offer a level of history and character – and quite often feature larger, more beautiful diamonds in their designs too.
What is an antique diamond ring?
Vintage is a big trend. Many of the big jewellery houses are creating designs now that hark back to a bygone era. While these designs are great replicas, they are not truly antique rings. So, what actually is an antique diamond ring?
While in many industries and trades, antique refers to items older than fifty years, in the jewellery industry, this is different. For a ring to be classed as an antique ring, it needs to be over 100 years old. As a result, if you're looking to purchase an antique diamond ring now, you would be looking for jewellery that was made up until the mid-1920s.
This means you can find some beautiful examples of antique diamond rings from the Victorian, Edwardian and Georgian eras as well as some early examples of the Art Deco era too.
The difference between vintage and antique diamond rings
Vintage and antique jewellery pieces offer a snapshot of a different era. It adds depth, a story and invokes the imagination as to the history the ring has been through and what or who it was initially designed for.
While both vintage and antique jewellery offers history, it can help to know the difference when jewellery shopping.
Vintage style
Vintage-style pieces will be relatively new items that have been designed to look like they come from a previous era.
Vintage
True vintage items are typically over 50 years old but less than 100 years old. Currently, vintage jewellery should be from the 1920s until the 1970s. However, if there are pieces from a particular era, such as from the 90s and are enjoying a renaissance in fashion, then some sellers may call these vintage – even if it's not strictly true in terms of the date of these pieces.
Antique
For antique jewellery to be called antique, it should be over 100 years old. Antique jewellery includes pieces from eras such as Georgian, Edwardian and Victorian. It also includes eras such as Art Nouveau and early Art Deco.
Estate
Another term often used synonymously with vintage and antique jewellery is estate jewellery. Estate jewellery doesn't have to belong to a particular era or have a particular age. Instead, estate jewellery is a term that is used for jewellery that has had a previous owner.
While estate jewellery is a term that is more popular in the US than the UK, sometimes it's misinterpreted as having a deceased owner and was left in their estate. This isn't the case; estate jewellery can be used as a term when someone chooses to let go, sell or transfer ownership of their jewellery.
Buying an antique diamond ring
Opting for an antique diamond ring is a chance to buy jewellery with fine craftsmanship and longevity. Typically the quality antique diamond rings you can find were made by hand and crafted with care and excellence, which is why they are still in great condition today.
What's more, opting for an antique diamond ring is often a chance to find a unique, personal ring where it is hard to find similar options. For many people, antique rings offer a deeper meaning or a story that is impossible to get from modern jewellery.
Benefits of antique diamond rings:
Made by hand
Beautifully made
Long lasting
Unique quality
Romantic
Historical choices
Diamond clarity and size.
Antique diamond ring options
Victorian diamond rings
During the Victorian era, it was common for jewellers to use a combination of gemstones, such as this Victorian ring featuring both sapphires and diamonds. The metalwork was often ornate with natural elements such as flowers or foliage used in the design.
Antique solitaire diamond rings
Typically, antique diamond rings use larger diamonds than are used in modern jewellery making. As a result, if you're looking for a larger diamond, then it is well worth looking for antique diamond rings, as they can often be bigger, with higher clarity and quality.
For example, Susannah Lovis offers an old mine cut solitaire diamond ring where the centre diamond is 1.80 carats.
Antique engagement rings
An antique engagement ring can be a great choice to symbolise your love story. Antique diamond rings make great engagement rings as they offer character, charm and are often one-of-a-kind, as unique as your love with your partner.
In the last few years, the number of couples looking for antique engagement rings has significantly increased, with many experts explaining this increase as people are looking for more meaningful connections and a backstory to their jewellery after a difficult few years in the pandemic.
If you're looking for a beautiful antique engagement ring or to add a stunning diamond ring to your jewellery collection, please view the collections at Susannah Lovis online or book an appointment to browse our jewellery in store.