Why Panthere de Cartier Is Such A Style Icon
Over the decades, Cartier has become known for a few iconic designs – mention Cartier to anyone, and they'll probably imagine pieces inspired by the original Trinity design, Cartier Love Rings or luxury watches with simple but opulent designs. What may surprise you is that one of the brand's most iconic watch designs doesn't have such a long and illustrious history as some of their more enduring designs.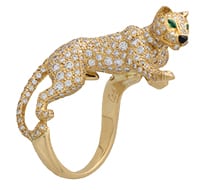 The History Of The Panthere De Cartier
The Panthere de Cartier was a symbol of 1980s power and excess. Launched in 1983, the bracelet watch featured a bold square face representing the power that many people felt throughout the decade, an opulent gold bracelet to reflect the lavish lifestyle that many people enjoyed, and elegant roman numerals that stretched out towards the bezel.
After commissioning a painting of a panther in the early 20th century, Cartier became so obsessed with the animal that it became a symbol of the brand. In the 1980s, it was the perfect name to represent such a bold design.
The Panthere de Cartier was sold for almost twenty years before finally being discontinued in the early 2000s. Now, two decades later, Cartier has resumed production of this iconic design once more – although this time, it comes in nine different finishes and two different sizes.
The Resurgence Of Big Hair And Loud Fashion
Almost forty years after the symbolic design was launched, it's now back in demand. The 80s was a time of power, excess and personality, and having survived a turbulent few years; many people are keen to bring back the feeling of freedom and autonomy.
Just a few years ago, all of the big designers were talking about minimalism and monochromatic colour schemes, yet these have fallen by the wayside in favour of bright colours and clashing prints.
It's true that everything eventually comes back into style, and it often follows that as history repeats itself, so too does the fashion. In 2022 many people want to express their personality through their wardrobe and feel truly individual. With this, tastemakers have brought back iconic 80s fashions, including the iconic Panthere watch.
What's most interesting about the Panthere design is the shift it's seen over the decades. When the design was initially launched, it was created for men. The likes of Pierce Brosnan and Kieth Richards catapulted the design into the fashion hall of fame.
This time around, it's the girls who are claiming the Panthere as their own. As 1990s fashion ushered in a wave of androgynous styles, the watch was seen on the wrists of A-listers like Gwyneth Paltrow and Madonna. Now in 2022, it's been seen on many of the Instagram elites, like Bella Hadid, Dua Lipa and Zendaya.
A New Love For Vintage Pieces
As many of us consider a more sustainable way of life, wearing vintage clothes and accessories has become a fashion sub-culture in itself. Why spend hundreds with a fast-fashion retailer to look the same as everyone else, when you could invest in a truly unique and iconic piece of history that will last decades?
As fast-fashion retailers pump out vintage-inspired designs, many people are on the hunt for rare and real gems. This love of vintage fashions has driven a resurgence of love for the iconic Panthere watch.
Of course, Cartier's take was a little different. In an interview with AnOther magazine Pierre Rainero, director of the Cartier brand, said that "at Cartier, there's no such thing as nostalgia". He said, "our style was not born yesterday; it has been built generation after generation". Rainero continued, adding, "As such, a Cartier product must live outside fashion, trends or the ephemeral. Obsolescence is something that is totally foreign to our work preoccupation. When we create something, we always think in terms of permanence".
It's true; the Panthere design remained iconic even when it wasn't selling enough to escape being discontinued. As historic trends are recycled, Cartier has resumed production with contemporary designs adorning the original shape.
The New Panthere Icon
The watch has been relaunched in the same shape but with reimagined designs. The new Panthere is available in nine finishes and two different sizes, ranging from simple single-metal designs to elaborate diamond-studded bezels and two-tone metals. One of the most iconic new styles features a wrap-around bracelet, turning a classic icon into something new and reimagined.
Despite all of the redesigns that the Panthere de Cartier has seen since its relaunch in 2017, the original 1983 model remains the most popular, with thriving vintage demand. Indeed, the Panthere de Cartier belongs in the fashion hall of fame.