Which Is The Right Rolex For You?
Date, Datejust or Day-Date
There is no other timepiece as instantly recognisable as a Rolex. They have been worn by politicians, explorers, scientists and soldiers – and now you. A Rolex is synonymous with excellence. Their mechanical movements are still manufactured entirely in-house and built with raw materials held to a strict standard.
Their proprietary Oystersteel, at 904L, remains superior to many of the 316L stainless steels used by many other luxury brands. Each watch is submitted to 15-days of intensive testing by the Contrôle Officiel Suisse des Chronomètres.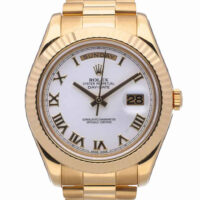 Connoisseurs and collectors of such wearable investments prefer to buy a vintage Rolex for many reasons. There are the supply issues – purchasing a new Rolex can mean long waiting lists for anyone who isn't already an established buyer. Buying a vintage Rolex also gives you a greater range of characteristics to choose from.
Highly robust, they are famously maintenance-friendly, and you simply cannot beat the mid-century cool and rugged aura of a vintage Rolex. Once developed for pilots, divers, soldiers, motorsport enthusiasts and other intrepid adventurers, owning a vintage Rolex is like owning a piece of history. Each one has a story.
If you're looking to invest in a vintage Rolex watch, being able to distinguish the history of each model and the subtle differences between them requires being in the know. The Date, Datejust and Day-Date may all seem similar, but each is unique and offers distinct advantages a buyer should look out for.
The Date
With a 34mm casing, The Date is perfect for someone who is looking for a sleek and subtle timepiece. Early models of the Rolex Date, from 6530 to 6537, were offered in stainless steel and yellow gold with a variety of unique characteristics. You can find a vintage Rolex Date to fit any preference, whether it is a smooth bezel, engine-turned bezel, or white-gold bezel.
For a truly classic look, there's the Oyster Perpetual Date, which can be spotted on the wrists of men like Clark Gable. The Oyster Perpetual Date was inspired by the first-ever waterproof watch produced by Rolex in 1926.
Similar in look to the Air King – another entry-level classic – the Oyster Perpetual Date has the added functionality of a date window and offers a distinctly enduring edge for a timeless look.
Buying vintage has a particular advantage for the Oyster Perpetual Date, as though they were once made with a range of materials, they are now only produced in stainless steel.
If you're looking to buy a vintage Rolex with a minimalist and easy-to-read design, you'll have a greater range to choose from. The most popular vintage Rolex model by far is the 1002.
The Datejust
In 1945, Rolex introduced the Datejust, a quintessential and classic design. It is the archetype of the Rolex watch and a seminal part of horological history that remains their most popular model to this day.
It may not be the rarest vintage find, but popularity is no issue when you're in the company of other Datejust wearers such as Harrison Ford and Cher. The Rolex Datejust is perfect for someone looking for design and functionality that transcends time and fashion.
One of the advantages of buying a vintage Rolex in the Datejust model is that it has always been highly customisable; there is a vintage Rolex Datejust to suit every need or style. Buyers will find everything from entry-level stainless steel with smooth bezels to two-tone gold and steels with a diamond bezel and a wide range of case sizes.
The most common vintage Datejust has a silver dial, but a determined buyer can also find stunning variants with sigma dials of gold indices. The 1601, with its white-gold fluted bezel, pie-pan dial and date wheel, is a true vintage classic.
Another iconic model that many buyers will be eager to collect is the 1603, which features a stainless-steel engine turned bezel. Produced in the 1960s and 70s, they feature the hallmark characteristics of a midcentury Rolex which helped make the brand what it is today.
The Day Date
For those looking to buy a vintage Rolex that is truly ceremonial, there is the iconic Day-Date wristwatch. Released in 1956, it is perhaps best known for its popularity with politicians and history-makers such as Ronald Reagan, Richard Nixon, Gerald Ford and Roger Federer. The first head of state to wear the Day-Date was John F. Kennedy, who was allegedly gifted the watch by Marilyn Monroe.
The most ubiquitous variations of the Day-Date contain 13.875 grams of gold and are instantly recognisable by their 36mm case and semi-circular three-piece links on the bracelet. Only available in 18ct gold or platinum, it's no wonder this iconic Rolex has been nicknamed "The President". Some variations have, however, been fitted with leather straps, oyster bracelets, or five-link Pearlmaster bracelets.
Find your Rolex with Susannah Lovis
Whether you have a particular model in mind or looking for a Rolex that catches your eye, Susannah Lovis offers a premium collection of vintage Rolex models and can help you source the ideal model for your collection. To find out more, contact our team today or browse our current Rolex collection online.