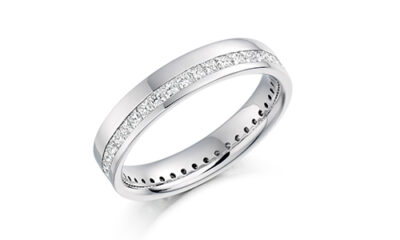 A wedding ring is hopefully a band that you'll wear for life. As a result, a bespoke wedding ring is something that is uniquely created to suit your style and personality so you'll always own a wedding ring that you love. If you're considering your options for wedding rings, read on for our handy guide to whether a custom wedding ring is right for you.
What is a bespoke wedding ring?
A bespoke wedding ring is a ring that's designed specifically for you and commemorates your wedding. With a wedding band hopefully being worn for the rest of your shared life together, it is a ring you want to love, symbolises your relationship and can be designed so that you and your partner have matching rings.
Typically, a wedding band is a simple gold ring. However, many people prefer to have something different. For example, they may wish to have a ring that complements their existing rings, such as their engagement ring, or they may wish to have their wedding band created in a different material or with a unique design.
Why choose a bespoke wedding ring?
Match with your partner
Many couples like their wedding rings to have similar features or match each other in some way so they feel connected and united in the wedding bands that they exchange. Having customised wedding rings is a chance to personalise the rings to suit the couple. It is also a chance for a couple to find their perfect wedding bands that they both love, rather than compromising on rings that neither partner is quite happy with.
Complement your engagement ring
When planning to wear an engagement ring and wedding band together, it can help if both rings fit together. This is why stacking rings can be ideal for engagement, wedding and eternity rings. However, without planning ahead, it can be hard to find rings that stack together. By choosing a bespoke wedding ring, it is possible to design a ring that fits perfectly with your engagement ring.
There are many ways your bespoke wedding ring can complement your engagement ring, from physically fitting together so it's comfortable to wear together, to having a similar design as your engagement ring so they look the part together.
Showcase your creativity
With a wedding ring worn daily, you want a ring that really showcases your personality. As a result, it can be hard to find the perfect ring that you'll never get tired of. Designing your own wedding ring is a great way to express your creativity and wear a ring that you truly love, because you've designed it yourself.
Add your personality
Your wedding and love is a unique and special thing. A bespoke wedding ring is a chance to create a piece of jewellery that really reflects your personality, relationship and life with your partner. You may want a ring that incorporates you and your partner's birthstone, or perhaps a special engraving which is a secret message between you both or a particular embellishment that symbolises your life together.
While it is possible to find wedding rings that can work, often designing your ring as a bespoke design means you don't have to compromise on any design features.
Incorporate heirlooms
If you have family heirlooms, gemstones or jewellery, it is possible to incorporate these into your wedding band. This could be a ring that you would like remodelled into your wedding band or a gemstone that is important to you.
This can often be a way to have family with you, and can be a symbolic way to bring families together through your wedding ring.
How to design a bespoke wedding ring
With a wedding ring being worn every day, it is important to find a quality jeweller who can create a ring that can be worn for life. If you're looking for a bespoke wedding ring, it is best to work with a jeweller who can first bring all of your design elements to life but craft the ring in a way that means the ring will last and that will withstand the knocks and stresses of daily wear.
From the right settings for any gemstones in the ring to choosing the right metals and embellishments, it is well worth instructing a quality jeweller for creating your bespoke wedding ring.
Bespoke wedding ring design with Susannah Lovis
At Susannah Lovis, we have a team of jewellery designers and jewellers who can transform your ideas into a beautiful bespoke wedding ring. Working in central London, you can meet our designers in-house or virtually and we'll work closely to ensure all of your ideas are incorporated into the design.
We'll work through the iterations until we create a wedding band you love and send it to our jewellers, where they can craft your ideal wedding band; a ring you can treasure forever.
To find out more about our bespoke design service, please get in touch with our team.