Style Dress and Cocktail Rings
When an outfit needs an edge, a bold and dramatic cocktail ring is the jewellery of choice to catch the eye and elevate a look. While a cocktail ring is a beautiful piece of jewellery, its size and design can feel overwhelming to some and is a big step away from subtle rings and bands that are more commonplace. So, what's the best way to style a cocktail ring and is there a jewellery protocol to follow when wearing these show stopping pieces?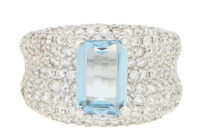 The History Of Cocktail Rings
The term cocktail ring dates back to the 1920s. The Art Deco and Jazz Age combined created a focus on sumptuous luxury, boldness and fun. Back then, in the peak of prohibition, the speakeasy and illicit cocktail bars were the places to be. This decadence, excitement and flaunting of breaking the rules needed audacious, exciting and flamboyant jewellery to match this time in history.
As well as the prohibition era that propelled this style, these rings have a strong feminist history too. In the 1920s, there was great empowerment for women and social change. Women were fighting for freedom and equality. What's more, they could express their independence in various ways, from choosing shorter skirts, androgynous styles, and oversized statement rings.
These large statement rings, known as cocktail rings, featured large gemstones, such as emeralds, sapphires, rubies and diamonds set in precious metals of gold or platinum. While a solitaire ring, engagement or wedding ring is gifted to a woman, these cocktail rings are opulent, a symbol of wealth and status and, more importantly, usually bought by the woman herself.
In the 1920s, cocktail rings were usually worn on the right hand as the left hand is traditionally the hand reserved for engagement, wedding and eternity rings. Wearing a cocktail ring on the right hand was a prominent display of independence and purchasing beautiful jewellery for your own enjoyment.
Now, cocktail rings are a statement piece of jewellery enjoyed for their beauty and style rather than what this ring used to represent.
Due to the increasing costs of gemstones, the vintage 1920s pieces are more likely to contain larger precious gemstones. More recent productions of cocktail rings will have semi-precious gemstones or smaller gemstones
How To Style A Cocktail Ring
Which hand?
A cocktail ring is designed to be eye-catching and bold. Due to the 3D effect and size of the cocktail ring, many prefer to wear this ring as a standalone piece. As a result, if you wear an engagement or wedding ring on the left hand, the cocktail ring may deliver more impact and feel more comfortable on the right hand.
However, there are no rules, and it's best to opt for the hand that feels the most comfortable to you.
Which finger?
Again, because of the size of a cocktail ring, they tend to look best on the middle finger to create balance and make the ring the centrepiece of your hand. It really is your choice. Depending on the size of the dress ring, it may feel too heavy for your little finger, but it will really depend on the size and comfort.
Number of rings?
A cocktail ring can really make an impact and, therefore, looks great worn alone as a single ring. However, there are no rules, and clashing colours and styles with multiple rings can show your personality. It can be fun to experiment with what feels and looks good to you. It may help to try different shapes and sizes to see which work well together. Too many rings that look too similar may look too neat and organised, which can sometimes distract from the statement a cocktail ring is designed to make.
Matching your outfit?
A cocktail ring is bound to attract attention. As a result, you may want to consider how the ring looks as a whole ensemble. Your outfit, nail colour and other accessories are well worth considering to show off your cocktail ring in the best possible way. Whether you want your cocktail ring to be a sparkling showstopper in a subtle outfit or you're ready to clash colours, prints and styles, making sure it encapsulates your style and personality is key to wearing a cocktail ring with confidence.
From vintage Panthere de Cartier to art deco Piaget cluster rings to retro Bvlgari, Susannah Lovis stocks a curated range of vintage cocktail rings made with stunning gemstones set to sparkle. Find your next cocktail party conversation piece with us, browse our collection online, or speak to our team if you have something specific that you're searching for.