Perhaps the most iconic engagement ring of all is a Tiffany ring. Love and Tiffany are synonymous, from TV shows to films, even proposing outside of Tiffany's flagship store on Fifth Avenue – popular culture puts engagements and Tiffany hand-in-hand. If you're looking for an iconic engagement ring, then look no further than this love-matched jeweller.
So, while Tiffany engagements are a hit in popular culture, what makes Tiffany the go-to for engagement rings?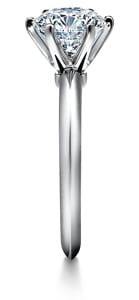 The History Of Tiffany Engagement Rings
The first interesting point is there isn't a specific Tiffany engagement ring. What makes Tiffany so iconic and well-suited for an engagement ring is actually the Tiffany setting. The Tiffany setting dates back over 130 years and is designed to highlight and elevate a diamond.
The Tiffany setting is a six-pronged clasp to hug the diamond, designed in 1886 by Charles Tiffany. The prongs provide space around the brilliant-cut diamond to allow light to shine through and ensure the stone shines and sparkles with all its captured light.
When designed and trademarked by Charles Tiffany, this solitaire diamond ring, complete with a shine-enhancing setting, symbolised everlasting love and quickly became a must-have for romantic engagements.
Diamonds For Everlasting Love
It wasn't Tiffany that first ensured diamonds were the go-to gemstone for engagement rings. Diamonds for engagement rings actually go back to 1477. However, the Tiffany Setting certainly helped to shine the spotlight on diamond engagement rings.
While Tiffany may not have been the jewellers behind the 'diamonds are forever' campaign. They are a jeweller that takes diamonds incredibly seriously.
Tiffany's diamond jewellery all features a triple excellent cut, which is seen as the highest grade in the jewellery industry. What's more, Tiffany has a strict screening process for the diamonds they purchase. As such, Tiffany only accepts 0.04% of gem-grade diamonds.
For their clients, Tiffany makes sure to reject any diamonds with imperfections that might be visible with an unaided eye. Whichever Tiffany engagement ring you buy, you can be sure that the diamond used has been intensely examined and vetted, with only the best reserved for their designs.
Choosing A Tiffany Engagement Ring
There are many different designs available that can make the perfect Tiffany engagement ring, depending on individual style and preference.
Solitaire Engagement Ring
Perhaps the most iconic Tiffany ring is the classic solitaire style. In fact, the emoji for a ring on smart devices is styled on a Tiffany ring, even complete with the pronged setting. A solitaire ring features a single stunning diamond. The Tiffany setting puts the diamond on a pedestal so that the gemstone is a real showstopper.
With a solitaire diamond ring, the diamond may be any shape. For example, it could be cut as round, baguette, heart, princess, emerald or cushion cut. The cut, alongside the setting elevation, helps to ensure the diamond is the centrepiece and highlights its beauty.
A vintage Tiffany solitaire ring is the perfect engagement choice for a classic, sophisticated look and for those who love to pay homage to such an iconic piece of jewellery.
Halo
Another popular option is a halo design, where a centre stone is circled by smaller diamonds or other gemstones for a greater visual impact. This helps to provide the ring with more depth, and the smaller stones help to highlight the centre stone for increased vibrancy.
A vintage Tiffany halo diamond ring could be the perfect engagement ring for those who love all that sparkles.
Three-stone
A three-stone engagement ring works to create balance and harmony on the ring by having a centre stone framed by two stones in a row. Often, the centre gemstone is the largest, with two smaller gemstones on either side. However, the stones may all be the same size in some cases. Tiffany particularly focuses on having a larger, beautiful centre stone supported by two smaller gemstones, usually diamond or sapphire.
This engagement ring style is perfectly suited for those who love a more contemporary look and are always set to dazzle. A vintage Tiffany three-stone ring is certainly a ring to be admired.
Buying A Vintage Tiffany Engagement Ring
Buying a vintage Tiffany engagement ring is a chance to own a ring lovingly handcrafted with only the finest diamonds. A Tiffany ring offers heritage, especially a vintage piece that has the history of the brand and its own story too.
At Susannah Lovis, we offer a wide range of vintage Tiffany jewellery, including a collection of diamond engagement rings. We also offer resizing to ensure the vintage ring is the perfect fit. To find the ideal ring to pledge your everlasting love, Susannah Lovis are here to help. Tell us what you're looking for, and we're sure we'll be able to source a ring of beauty for you. Contact us today to start your dream engagement ring search.