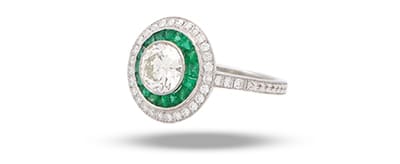 Emerald engagement rings: their meaning and styling
Emerald engagement rings are a very rare choice for brides-to-be, with many opting for the traditional diamond set in silver, platinum or white gold. While not necessarily traditional, their rich colour and deep-rooted symbolism makes them a beautiful and meaningful symbol of love.
As brides are increasingly looking for ways to inject more personality into a centuries-old institution, emerald engagement rings make an incredible statement and could be the perfect engagement ring for any quirky bride-to-be.
Meaning of emerald engagement rings
Emerald engagement rings have long been a staple in the jewellery world. They were widely popular for many centuries and remain so today, with these beautiful green stones being used to create everything from simple solitaires to intricate, ornate designs that are fit for royalty.
Emerald engagement rings hold powerful symbolism which goes back centuries. As well as being the May birthstone, emeralds are associated with luck, hope and wisdom.
Emeralds have been worn by royalty for centuries; Cleopatra was said to be particularly fond of them in ancient Egyptian times. The ancient Romans thought they were associated with Venus, Chinese tradition associates emeralds with longevity, and Italians believe it represents faithfulness.
The emerald has picked up more positive connotations over the years. In recent times, emeralds have come to represent love and new beginnings – all things that are associated with a wedding. It's no wonder that this beautiful green gemstone is becoming a popular choice for engagement rings.
Styling emerald engagement rings
In recent years, you may have seen some interesting new styles of emerald engagement rings, like include taper-cut or trillion-shaped stones that are placed at different angles on the ring's band so as not to hide any part of its beauty from view.
Vintage emerald rings are also hugely popular, with the idea that the ring has brought happiness to multiple fortunate brides, and each ring has its own history of love and romance.
Emerald engagement ring settings
Before you purchase an emerald engagement ring, it's important to know the different types of settings available. The following are some popular styles for emerald engagement rings:
Solitaire
A single emerald is set on its side (or upside down). Typically, this style is reserved for large gems such as diamonds and coloured stones like emeralds. The stone will sit in the middle of the ring and may be the only gemstone or surrounded by smaller diamonds and other precious stones, but the centre stone is the highlight of the ring.
This style looks particularly stunning when combined with a simple band design because it emphasises the boldness and clarity of your centre stone.
Cluster
Multiple smaller gemstones are used in an engagement ring setting. They're usually placed close together so that their sparkle adds up into one impressive look. Some people dislike the cluster style because they believe it can detract from the beauty of individual stones.
The reality is that when a talented jeweller creates the piece, they help to make every individual gemstone shine while bringing the whole cluster together for impact.
The style of the ring
Styles of emerald engagement rings vary greatly, from vintage to modern and everything in between. Some people prefer a simple band with a single stone, while others want something more ornate with multiple diamonds around the emerald.
There is no "right" choice – it's entirely down to your personal preference. What's more, if you can't find exactly what you would like, then many jewellers will offer a service that helps to create your vision in a bespoke piece.
The cut of the stone
Emeralds can come in many different cuts depending on how they were mined. The most common cuts include round brilliants (which have flat backs), cushion shapes (also called drop shapes), princess cuts (which have square corners), ovals and hearts.
When choosing an emerald engagement ring, there are no hard and fast rules to state which cut is "better", so simply make sure that it matches your style preferences.
Type of metal used
Finally, the last consideration is the band material for the engagement ring. The colour of the emerald means it can be paired with both yellow and white gold. While emerald with yellow gold has a more regal and classic feel, a platinum finish with emerald can feel more vintage, with an Art Deco styling.
Choosing an emerald engagement ring
Emerald rings have previously been a rare choice for brides to be, but their strong symbolism and impressive heritage make them an excellent choice for a stylish and eye-catching engagement ring.
Emerald is a beautiful gemstone that symbolises love, loyalty, hope, faith, and new beginnings. When you choose an emerald engagement ring, you are choosing a gemstone with real meaning behind it and may reflect the story of your relationship.
Find your perfect vintage emerald engagement ring here, or design your own bespoke emerald engagement ring with our jewellers here.