As jewellery has advanced through the centuries, the focus on making pieces as show-stopping and intricate as possible has meant that jewellery is now considered wearable art. And perhaps there is no better family name for transforming jewellery into art than Picasso.
Paloma Picasso, the youngest daughter of Pablo Picasso and Françoise Gilot – both exceptional painters in their own right – meant that Paloma was exposed to art and aesthetics at a tender age. Paloma Picasso quickly became interested in her mother's jewellery, examining each piece when she was just twelve years old.
Her first foray into the professional jewellery industry was in 1968 as the designer of costume pieces for a theatre production. This then led to collaborations with Yves Saint-Laurent and Zolotas all the while studying precious jewellery at a school in Paris.
Her talent was evident. As such, a director at Tiffany, John Loring, asked Paloma Picasso to join Tiffany as a byline designer. By 1980, Paloma had produced her first collection for Tiffany, and it was a collection that catapulted Tiffany firmly to the forefront of jewellery artistry.
Paloma Picasso's passion was always for semi-precious gemstones. She used her artistry and flamboyance to ensure semi-precious gemstones were just as admired as the precious alternatives. For example, citrine could be just as luxurious as diamonds. With her flair for glamour and opulence, combined with the fact that she saw treasure in every gemstone, meant her pieces were admired worldwide, and her name was cemented as a top jewellery designer.
Bringing The Eighties Art Movement To Tiffany
Paloma Picasso joined Tiffany at the height of the eighties art and culture movement, and this has inspired some of the most incredible collections in the Tiffany archives. We're sharing some of our favourites from the Picasso Tiffany collection and the fascinating histories that give these jewellery pieces such a wonderful backstory.

Love And Kisses – Paloma's Graffiti
Perhaps one of the most famous Paloma Picasso collections is the Tiffany Love And Kisses collection. This collection includes brooches, necklaces, rings and necklaces. Many of the pieces in the collection can be mixed and matched for your own unique look. What's more, it's possible to find vintage Tiffany pieces from the eighties to really add character to your jewellery.
The focus of the Love And Kisses collection is the Xs and Os that represent hugs and kisses. Its slightly edgy feel makes the pieces feel incredibly contemporary. Paloma Picasso said that it was the urban graffiti scrawled across New York that inspired the collection. However, Paloma Picasso made the collection her own by using her own handwriting in the expressive designs.
It wasn't just the eighties' graffiti that inspired Love and Kisses; the seeds of the idea for the collection began when Paloma Picasso was just 14 years old. Paloma Picasso visited England to learn the language and was fascinated that people signed their notes with three Xs to signify kisses. This was something she hadn't seen in France. Over the years, Paloma Picasso thought the X would be ideal for jewellery; it is heartfelt and feminine while still maintaining its street sense and edginess.
Now, the collection is timeless and classic and a fantastic piece of Tiffany jewellery to own that serves as a piece of everyday wearable art.
Olive Leaf Collection
Another popular Tiffany Picasso collection is the Olive Leaf which is inspired by Moroccan gardens, more specifically, the olive groves that Paloma Picasso has at her home in Marrakech. In terms of symbolism for the collection, using an olive branch signifies peace and abundance.
One of the most spectacular pieces in the collection is a pearl torsade choker. Paloma Picasso particularly loves this style, especially when such a big, bold necklace is paired with chunky bracelets and contrasting earrings. Paloma Picasso's focus was to defy the rules that traditionally state large necklaces should be paired with subtle earrings. Instead, she enjoyed layering contrasting pieces and different shapes, sizes and finishes.
While drawing on nature and classic elements, the Olive Leaf collection stands out because of its fresh and modern approach to the theme. The pieces are versatile and varying, but each has an eclectic take on the theme. All of which are ideal for layering.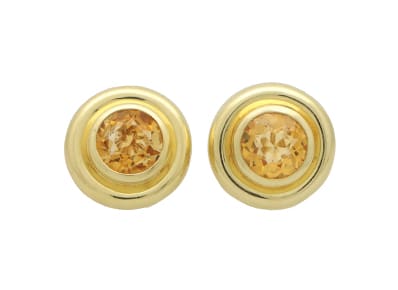 Citrine Stones – Paloma's Studio
One of the most iconic images of Paloma Picasso is complete with a stand-out citrine necklace. As mentioned above, Paloma has always had a passion for semi-precious gemstones, and citrine is a popular choice for her jewellery.
The whole of the Paloma's Studio collection puts colour and vibrancy at centre stage. The gemstones used are unexpected, as are the bezel settings and angular choices for the cutting of the stone. You can expect to find baguette citrines and retro round cuts set in chunky bezels for a fresh take on an old classic.
Again, this collection is designed to be paired, stacked and contrasted to create an individual look that is full of flair and vibrancy.
If you're looking for a particular piece of Paloma Picasso Tiffany jewellery, do get in touch with the Susannah Lovis team, who will be on hand to help find the perfect addition to your own jewellery collection.