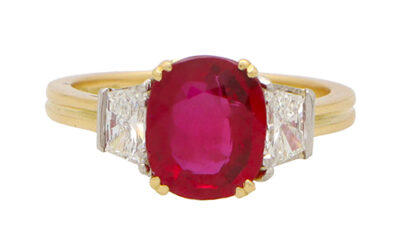 A guide to ruby engagement rings
Ideal for any partner who likes to shy away from convention, a ruby engagement ring can be a special and left-field choice that comes with true romance. While diamond engagement rings are the classic choice and sapphire engagement rings are growing in popularity thanks to royals such as Princess Diana and the Duchess of Cambridge, ruby engagement rings are a more unusual choice. What's more, they are ideal if you're looking for a different way to show your love.
What does a ruby engagement ring mean?
Rubies, with their deep-red colouring, are known for symbolising love and romance, making them the perfect choice for a romantic engagement ring. Rubies are also known for being a stone of protection. So much so that ancient warriors in the East wore rubies on their armour to protect them in battle.
In many cultures, rubies symbolise passion, wealth and health, with rubies' blood-red colouring symbolising the power of life.
Rubies are also known as being the birthstone for July, so if you're looking to add a personal touch to July-born loved one, a ruby engagement ring can be a perfect choice.
The history of ruby engagement rings
While diamonds are the go-to for engagement rings currently, this has only been a popular trend since the 20th century, thanks to a strong advertising campaign from De Beers in 1947. However, in the past, ruby rings were the height of fashion.
In the 17th and 18th centuries, rubies were the precious gemstone of choice for romantic jewellery gifts. Rings featuring both rubies and diamonds were made to symbolise love and eternity, which is why they make such meaningful engagement rings.
Who wears a ruby engagement ring?
While ruby engagement rings are not the most common choice, there are still some high-profile names that wear stunning ruby engagement rings and give these rings the attention they deserve.
For example, Orlando Bloom gifted Katy Perry a beautiful flower-inspired engagement ring. The ring features a stunning ruby in the centre of the ring, surrounded by diamond 'petals'. In 1986, Sarah Ferguson's engagement ring wowed the media with a 3ct ruby and 10 cluster diamonds. Again, the ring design is very floral – with the ruby sitting in the centre of the design.
Victoria Beckham has several engagement-style rings in her jewellery box, but one of the most show-stopping rings is a large oval ruby ring with a swirling diamond border.
What to look for when choosing a ruby engagement ring?
Rubies can be incredibly rare, and like all gemstones, there is a risk they are not being ethically sourced or mined in an environmentally friendly way. However, opting for a vintage ruby can help navigate this concern and ensure it's environmentally friendly.
With the rarity of rubies, finding significantly sized gemstones of good quality and clarity can be difficult, but there are many vintage options available, which can allow you to find a quality ruby with ease.
What cut is best for a ruby gemstone?
Round cut
A popular cut for a ruby is a round cut. These work really well to be a centrepiece stone, especially in the floral designs that are popular for ruby rings. Typically, a round cut is a more expensive option for rubies, which can add to the luxury and premium feel of a ruby engagement ring.
Oval cut
This type of cut is the most popular for ruby gemstones. An oval cut has the benefit of making the gemstone feel larger and, therefore, more eye-catching, ideal for show-stopping engagement ring designs.
Square cut
A square-cut ruby is less common, and while it is rare, it may be found in vintage Art Deco ring designs.
Cushion cut
For a softer, feminine feel, a cushion cut ruby is popular in vintage designs. Cushion cuts often work well with filigree and delicate features on the ring design.
Choosing a metal for the ring
Rubies tend to be paired with yellow gold giving a ring a classic, vintage feel. However, there is a growing trend for platinum or white gold for the engagement band, which gives a ring a more contemporary and modern feel.
Often rubies are paired with diamonds in a cluster style or three-stone ring choice. Diamonds can add a glittering touch to a white gold ring. With a yellow ring, the diamonds are more prominent, thanks to the contrast in colour.
Both yellow and white gold ruby rings are available. At Susannah Lovis, we have a mix of both options, and it does depend on personal preference as to whether your significant other appreciates a classic or more contemporary look.
Finding your perfect vintage ruby engagement ring with Susannah Lovis
From charming trinity rings to vintage show-stopping cluster rings, and floral styles to Art Deco elegance, Susannah Lovis offers a range of truly beautiful engagement rings that your partner is bound to fall in love with. At Susannah Lovis, we offer ring resizing to ensure you have the perfect vintage ring in exactly the right size.
Browse our collection of vintage ruby engagement rings here, or speak to our team if you have a specific design in mind and are looking to a more personalised service or a bespoke ring design.