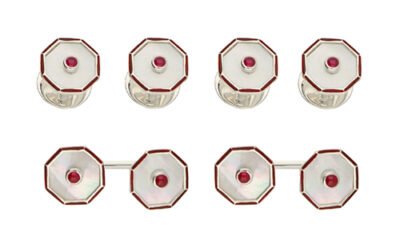 A Gentleman's Guide To Dress Sets
While many consider a dress set an outdated concept, especially when it's so easy to find button shirts, for a formal occasion, a dress set can be a fantastic way to elevate an outfit and bring more of your personality through your jewellery.
A dress set comprises of a pair of cufflinks and shirt studs. Cufflinks secure shirt cuffs together on a formal dress shirt. Shirt studs are fasteners that fit into buttonholes of dress shirts or tuxedo shirts for a more formal and individual look.
Why buy a dress set?
For formal attire, a dress set ensures you have a cohesive and polished look. A dress set will have matching or complementing cufflinks and shirt studs that are ready to be worn together on a tuxedo shirt.
There is a dress set for all formal occasions, from black tie to white tie events. Whether it's about conveying personality, style or beautiful jewellery, dress sets can bring your outfit together and make a statement.
Types of dress sets
Classic
A classic dress set is a wardrobe staple. Usually, a classic dress set features understated circular studs and cufflinks, often in one colour, such as onyx, silver or gold. A classic dress set invokes images of James Bond. It's suave and sophisticated but still practical to go from meeting to evening function.
Diamond dress set
For glitz and glamour for a special event, such as New Year's Eve or other celebrations, a dazzling dress set that catches the light is a fantastic way to give your tuxedo a party look. Art Deco and vintage dress sets from the 1920s can be a fantastic way to invoke the party feel of the roaring twenties with precious gemstone embellishments.
Event-specific sets
A dress set is a fantastic way to add character to an outfit and can be a fun way to match your outfit to the event. For example, animals, anchors, or poker chips could all be fitting for an event or charity. Similarly, novelty dress sets are also available as a fun way to get people talking about your outfit.
Precious stone dress sets
Mother of pearl, ruby, lapis lazuli, and sapphire are precious stones that elevate a dress set and are ideal for a special occasion. Precious stone dress sets can also make the ideal gift for the gentleman in your life.
When to wear shirt studs
Shirt studs are typically worn only with a bow tie, as a Windsor tie will conceal the buttons. Not all dress shirts accommodate shirt studs, so it's important to have the right shirt for the studs.
While trends are changing, it is still traditionally considered that dress sets should be worn for all formal events, while cufflinks by themselves can be worn for informal, casual and daily wear.
There is no set rule for when to wear a dress set or what type of dress set to wear. However, with the trend of personalisation and self-expression fashion, we're seeing more examples of this jewellery trend, from red carpet tuxedos to vintage flannel shirts receiving a sophisticated makeover.
When to wear cufflinks
Typically, cufflinks are easier to wear and are more practical to wear as they work with lots of different shirts;
Barrel cuff shirts
For more informal wear, barrel cuff shirts are great for cufflinks. Often barrel cuff shirts can be convertible, offering both a cufflink and button option. This can mean the shirt offers versatility with two holes on each cuff.
French cuff shirts
For the cuffs to be the highlight of the outfit, choose an eye-catching French cuff, where the cuff folds back on itself for more volume. A French cuff requires cufflinks, and the layered approach of the cuff can really help cufflinks to stand out to make a smart, sophisticated fashion statement.
White shirts
If you're looking to add a touch of sophistication to a classic white shirt, cufflinks can be the ideal choice to add style and formality to a white shirt. This can take a shirt from a classic work shirt to a polished look for an important meeting.
How to select the right dress set for every occasion
Different dress sets will suit different occasions and outfits. When purchasing a dress set, it is wise to consider the colour of your suit.
The best dress set will complement the colour scheme and bring out particular elements. For example, a navy-blue suit can benefit from platinum grey, brushed metals and silvers. A classic black tuxedo can look understated with onyx dress sets or heightened with a hint of diamond sparkle.
It is important to remember that, like clothing, dress sets are a chance to express yourself, your style and your personality. The right dress set will make you feel good and will be worn with confidence. If you're not sure, it is often best to start with a dress set that is timeless, classic and versatile, so you're able to wear the set time and time again but with different suits and tuxedos.